HYCU (Haiku: a traditional form of Japanese poetry valued for simplicity, openness, depth lightness) is the first data protection solution powered by '
Comtrade Software'
that is fully integrated with Nutanix AHV. HYCU makes data protection easy to deploy and manage with automated application discovery
.
Features
:
Native & Reliable data protection for VMs and mission-critical applications.
3 minutes to deploy through Nutanix Prism web console.
4 minutes to learn and protect virtual machines and applications.
2 minutes to restore VMs & Applications.
Predefined backup policies (Gold, Silver, and Bronze) that simplify the data protection implementation.
Automatic backup scheduling provides data protection based on your recovery point objectives (RPOs).
In-built application awareness provides application discovery and application-specific backup and restore.
Multiple data storage targets, including cloud services (Amazon, Azure) also local storages using NSF & SMB.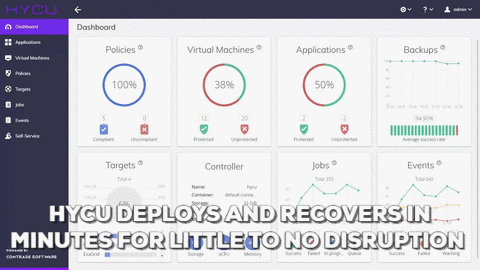 Licensing
:
HYCU comes with a prebuilt Instant-on license that expires automatically after 45 days and cannot be reused. HYCU license is based on the number of CPU sockets on all Nutanix clusters.
Perpetual license:
•Nutanix SX series: USD $999/socket
•Nutanix NX series: USD $1500/socket
Subscription:
•USD $75/month/socket
Resources
:
Press Release:
Comtrade Software Introduces the First Data Protection Solution Purpose-built for Nutanix Enterprise Cloud Platform
The Register:
Software 'submarine' surfaces data protection for the Nutanix hypervisor crowd
Trial:
http://tryhycu.com